Diwali is just around the corner, and you must be busy in prepping up your home for the mega celebrations! Sweets are an integral part of the Diwali celebrations, and each household has a secret recipe of their own to amaze the guests. If you have not yet fixed on that secret sweet recipe yet, then here we would like to address that situation.
Recipe #1: Mango and Cardamom flavored Shri Khand
This dish is light, delicious and easy to prepare. Start the preparation by pouring a quality Yogurt (you may use Niryas Fresh Dahi) in a square piece of cloth and then tie a tight knot. Keep the cloth hanging for next 40 minutes. Once the water is separated, divide the yogurt into two equal halves. Blend the mango puree in one part and add cardamom powder along with sugar to the second part. Pour these into a dessert cut and garnish with raisins.
Recipe #2: Tapioca Pudding
This is an eggless pudding recipe which is perfect for this festive season. Use Niryas double toned milk to cater this recipe to even the diet-minded guests! Add two cups of milk in a pan and boil it. Add the tapioca and cardamom to the milk and heat for another 15 minutes. Once the tapioca has become translucent and the milk has become thick, you have to add another cup of milk along with sugar. Heat the ingredients till the milk has been reduced and tapioca pearls are mashed. Allow the preparation to settle down and then serve it.
Recipe #3: Coconut Cardamom Truffles
Better known as Nariyal Ladoo is India, this is a sweet that we all have grown up eating. It has a simple recipe that utilizes the addictive flavor of coconuts and the good taste of Niryas full cream milk. Start the recipe, by grating the coconut into a fine powder. In a saucepan heat up the milk and later add the grated coconut into it. Add some cardamom powder and some extra shredded coconut into the saucepan. Cook this for 4 minutes and then remove the pan from heat and allow it to cool off. Once the preparation has cooled, add some more milk and coconut mixture before rolling it with your palms. Store it in a refrigerator, before serving this delight to the guests.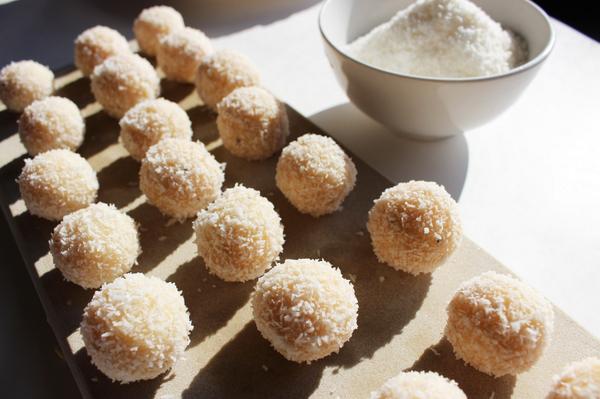 417,220 total views, 69 views today